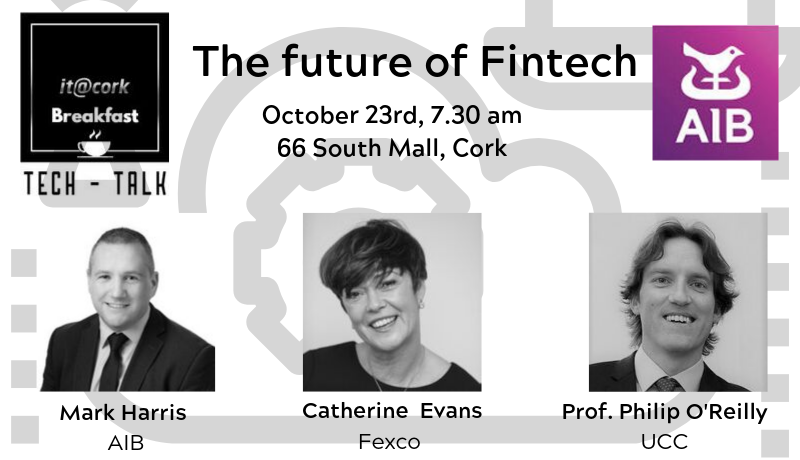 Date: Wednesday, October 23rd
Venue: AIB Banking Hall, 66 South Mall, Cork.
Time: Networking/Registration from 7.30 am.  Panel discussion 8 – 9 am.
It@cork in association with AIB is delighted to announce our next breakfast tech talk with an exciting topic that is sure to appeal to many in the tech community; The 'future of fintech' and its impact on the finance and banking sector.
Fintech is rapidly changing the world of finance for consumers in so many different ways from banking, to insurance, to grocery shopping and credit cards.  Digital banks such as Revolut and N26 have disrupted the banking market and are hoovering up customers at a ferocious rate.  The level of vc investment in disruptive fintech start ups is also growing at an exponential rate.
This key question is how are traditional banks responding to this digital fintech revolution and what is the furture of Fintech?
 This event will include a panel of speakers from Fexco (Catherine Evans), UCC CUBS (Philip O'Reilly ) and AIB (Mark Harris) engaging in conversation on a number of relevant areas including:
The current state of Fin Tech in terms of its evolution and adoption

Regulation in the finance/banking sector that is enabling/preventing greater adoption of fintech

Challenges and opportunities and how disruptive technologies are transforming the banking and financial services sector

How is this region (south west) placed to capitalise on global opportunities for fin tech
The event will be highly engaging and interactive, with plenty of opportunity to ask questions and share views throughout the session. It will run 8-9 am, with a tea & coffee provided from 7.30 to facilitate networking before the panel discussion and Q&A session.
Registration 
This event is free to all it@cork member companies.  You must register for this event as a member or a non-member.
Instructions for sign-in and registration can be found in the attached doc.
Instructions_sign-in & sign-up it@cork
If you have any questions in relation to event/membership registration, please contact: admin@itcork.ie