Diversity Matters Mini Conference sponsored by Deloitte: 
Strengthening Diversity & Inclusion in your Organisation
The Dean Hotel, 12th October, 08:30am -1.00pm
it@cork & KerrySciTech are excited to announce that we will be hosting our first ever Diversity Matters mini conference, kindly sponsored by Deloitte.
During this half day event you will get the opportunity to engage with a keynote speaker and three panel discussions in which expert panellists will discuss various topics in Diversity, Equity, and Inclusion. These panel discussions will cover:
Ability in the Workplace

A Business Case for DEI with a Focus on Pride

The Importance of Inclusive leaders
Listen and engage with all the speakers throughout this mini conference which promises to be motivating, insightful, and informative. There will be plenty of opportunities to network with likeminded peers throughout the morning. We are very excited to welcome everyone back to our first in person Diversity Matters event in over two years. More details will be released in the coming weeks!
Thanks to our event sponsors: Deloitte, PepsiCo Ireland, VMware 
Registration: 

Tickets for members are €30 and €45 for non-members and are available to purchase 

here. 
Ticket sales will be on a first come first served basis and are inclusive of VAT. For group bookings please contact us directly at: admin@itcork.ie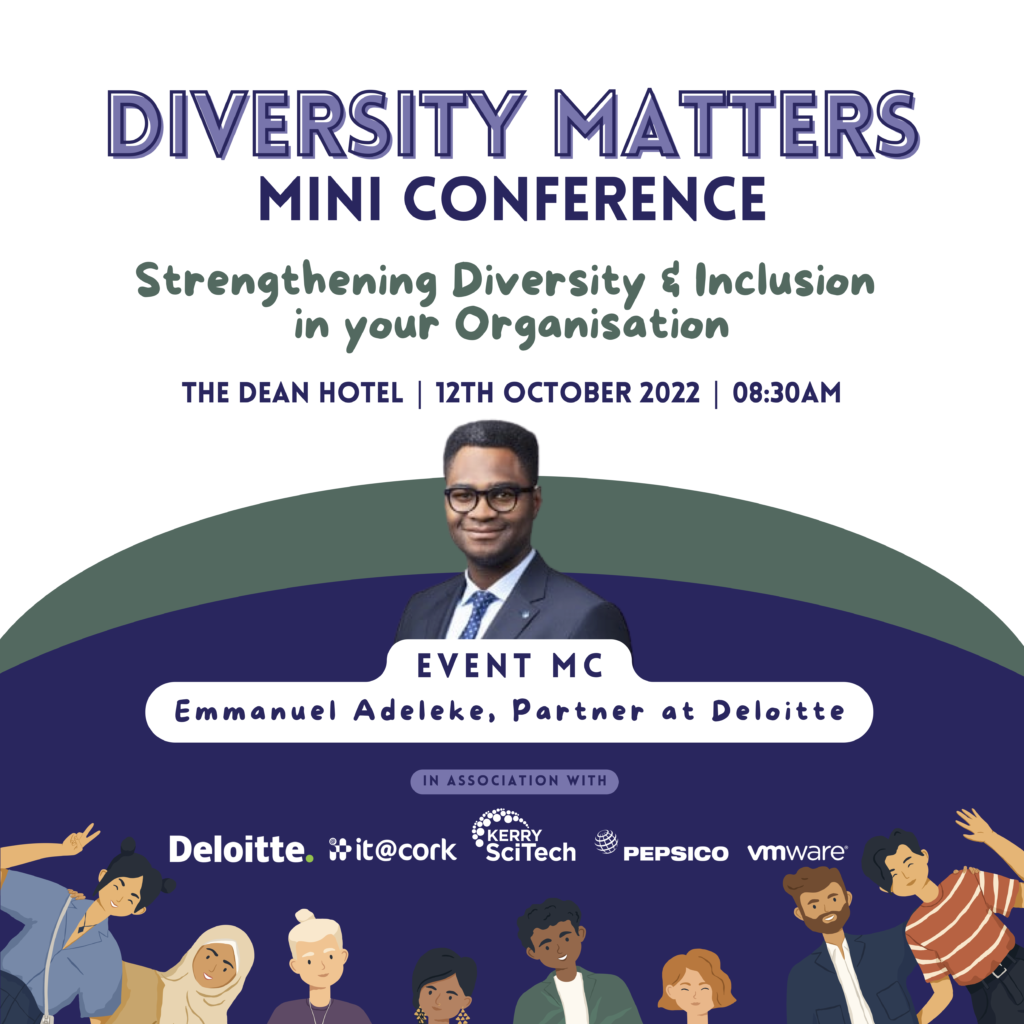 Overview of speakers and sponsors:
Event MC: Emmanuel Adeleke, Partner at Deloitte
Emmanuel Adeleke is a partner in Consulting, leading the delivery of AI and Data services across Ireland. In this role, he is responsible for leading, scaling, and delivering Deloitte's offerings and services to drive impact for Deloitte's clients across all sectors and industries. Emmanuel is highly experienced in the end-to-end delivery of insights-led change and transformation programmes, having played a lead role across some of Ireland's most high-profile programmes over the last few years. His experiences span strategy development, delivery of digital and data analytics solutions / programmes, operating model and change management. Emmanuel is very passionate about diversity, inclusion and equity having sponsored and led a number of initiatives both in the workplace and wider society.
Event Keynote:
'Building an inclusive culture' delivered by Fiona Ferris, Deputy Chief Executive Officer at AsIAm 
Fiona has worked with AsIAm since 2017, originally joining as an Early Years Specialist and assuming the role of Deputy CEO in 2019. Fiona currently oversees the Training and Accreditiation Department within AsIAm. Fiona specialises in Diversity, Equity and Inclusion and delivers talks both nationally and internationally about autism, neurodiversity and disability, while contributing her own experiences as an Autistic adult and a parent to an Autistic teen.
In her talks, Fiona aims to give practical, relatable knowledge and strategies to assist others in supporting the Autistic community to meet their own individual potential and fully participate in their community. Fiona's expertise covers a broad range of issues including Autism and Women, Neurodiversity, Intersectionality, Disability Rights, Employment, Accessibility and Education. Outside of work, Fiona is completing a Law Degree, and sits on the Board of Directors of LGBTQ+ charity ShoutOut.
Speakers:
Ciaran Ryan, Vice President Product Management at IBM
Ciaran leads the product management team for the IBM Software Networking portfolio. With this portfolio, IBM supports telecom providers and enterprise customers to manager their networks and services, as they modernize and virtualize their infrastructure to deliver new 5G and Edge services. Ciaran as the lab – leader for IBM Ireland, also leads the overall IBM Software mission for IBM Ireland, leading the teams to deliver new innovations and value to IBM customers and to IBM. Prior to IBM Ciaran worked for Ericsson and Vodafone.
Lorna Griffin, Employment Specialist at IPS
Lorna worked in Buckinghamshire, UK for 3 years as a Junior Project Manager for a Corporate Events Company with Visa being a main client. Lorna then moved on to work as an Operations Assistant for FilmCLub, a children's charity based in London for 2 years. On moving to Ireland in 2014 Lorna managed 321 Down Syndrome Kerry Charity Shop before taking up a role with NEWKD as a Tus Supervisor and then onto her current role as Employment Specialist with IPS.
Kathleen Lucey, Senior Manager at Dell Technologies
Kathleen leads Dell Technologies' Assistive Technology Center of Excellence. Access to assistive technology empowers everyone to reach their full potential and ensures Dell Technologies is a place where people want to work, team members feel valued, differences are respected, and innovative spirits are unlocked. The assistive technology center of excellence is a trusted partner and advocate for team members with disabilities. Using a discreet non-disclosure process, this team provide assistive technology solutions, training and support across auditory, visual, mobility and neurodiverse abilities.
Marie Fraser, Program Director at IBM
Marie is a Program Director with IBM's Security Division working on the Security Intelligence portifolio,  focused on delivering products to protect industries, businesses, and consumers from today's emerging risks and vulnerabilities. She is consistently incubating innovative ideas and driving change to solve IBM's clients and employee's needs.  She is passionate about Technology, Business Transformation, Equality and NeuroDiversity. 
Toby Benham, Chartered Chemist and Regulatory Affairs Senior Scientist at PepsiCo Ireland
Toby has been at PepsiCo for two years, moving to Cork in the last year. During his time Toby has been an active member of the PepsiCo Cork EQUAL employee resource group, with a focus on launching a new initiative around allyship & advocacy.
Damien O'Halloran, Chairperson at Work with Pride
Damien is an executive leader working in IT for over 25 years, leading globally diverse teams. Damien is also actively involved in multiple Diversity & Inclusion functions, most especially Employee Resource Groups, focusing on encouraging team members to bring their authentic selves to the workplace.
Mary White, Senior Manager, People Science at Inclusio
Mary  is an advocate for disability awareness, gender equality, and LGBT+ inclusion. Prior to joining Inclusio, Mary led Johnson Controls' EMEA LGBT+ employee resource group, and prior to that was a sports journalist for the Evening Echo and Irish Examiner, championing equality for female athletes. In 2018, she won the An Post Irish Sports Book of the Year (Game Changer) with Cora Staunton, while her first book (Relentless) was shortlisted for the 2015 Setanta Ireland Sports Book of the Year. She got involved in the Work with Pride Business Network to help others be their best selves in the workplace, and beyond.
Deirdre McCarthy, Head of Strategy at Dairygold Co-Operative Society
Deirdre leads the ongoing delivery of the Dairygold Strategy and is also responsible for advancing the use of data, continuous improvement, and project management throughout the business, to deliver both the day-to-day objectives and strategic objectives of the Society. Prior to this recent appointment, Deirdre was the Head of Business Transformation for Dairygold. This role focussed on evaluating, co-ordinating and supporting the transformation of how Dairygold does its business – our ways of working. Deirdre joined Dairygold in late 2019 as the Head of Internal Audit, prior to joining Dairygold Deirdre was a Director in EY Advisory. Deirdre is passionate about the positive and proactive impact DE&I strategies and initiatives can bring to organisations.
Rich Mullins, Global Sales Development Manager at Workvivo
Rich Mullins is the Global Sales Development Manager at Workvivo. In his role, he manages a team of 11 to drive new business globally for the fast-growing startup. Rich is most passionate about fostering new talent: from recruitment to coaching and mentoring to help colleagues make a move into their next role. Before Workvivo, Rich held several sales roles in Malwarebytes, leading teams. He has a BA in history and economics, an MSc in marketing and has just begun a four-year degree in psychotherapy at Coventry University. In his spare time, he hikes, attempts to handstand and teaches spin classes. 
Cliona O'Farrell, Senior IT Operations Program Lead at VMware 
Cliona joined VMware in 2017 as an intern. Cliona works closely with our multi-cultural and cross functional teams across 14 different countries to maximize the value of our CDTO-VES EMEA community alongside VMware's EMEA site to build a community that balances well-being with professional development, and that reflects VMware's EPIC2 values. Cliona has a strong background facilitating multiple programs for our Field Sales team in EMEA. She is a founding member of Gen V an internal leadership networking program and co-leads the Gender Pillar for VMinclusion Ireland. She is passionate about DE&I and counts her special needs sister as her inspiration every day to be a better person.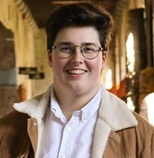 Maeve Richardson, VP of Citizenship and Equality at USI (Union of Students Ireland) and former UCC SU Communications Office
Event sponsors:  
Deloitte offers a range of services within audit, tax, consulting, and corporate finance to both public and private clients spanning multiple industries. As the world's largest professional services firm globally, Deloitte have a connected network of member firms in more than 150 countries and currently employ more than 150 people in their Cork office.
PepsiCo Ireland products are enjoyed by consumers more than one billion times a day in more than 200 countries and territories around the world. PepsiCo generated more than $79 billion in net revenue in 2021, driven by a complementary beverage and convenient foods portfolio that includes Lay's, Doritos, Cheetos, Gatorade, Pepsi-Cola, Mountain Dew, Quaker, and SodaStream. PepsiCo's product portfolio includes a wide range of enjoyable foods and beverages, including many iconic brands that generate more than $1 billion each in estimated annual retail sales. 
"Guiding PepsiCo is our vision to Be the Global Leader in Beverages and Convenient Foods by Winning with PepsiCo Positive (pep+). pep+ is our strategic end-to-end transformation that puts sustainability at the center of how we will create value and growth by operating within planetary boundaries and inspiring positive change for planet and people." For more information, visit www.pepsico.com.
VMware is a leading provider of multi-cloud services for all apps, enabling digital innovation with enterprise control. "At the heart of everything we do lies the responsibility and the opportunity to build a sustainable, equitable and more secure future for all.​"