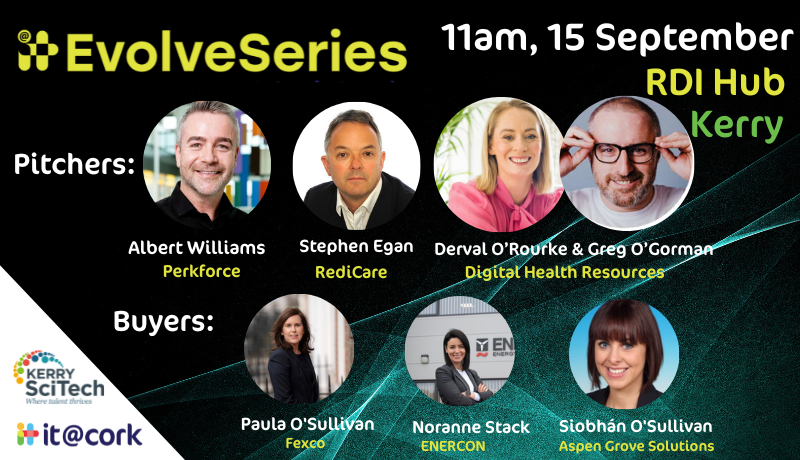 it@cork & KerrySciTech are excited to announce that we will host our first ever in person and hybrid Evolve Series event on Thursday 15th September from 11am – 1pm. 
Afterwards Jennifer Dowling, Organisational Psychologist and Co-Founder of The Box CoWork will deliver a talk from 12.30-1pm: Present Paradoxes and Future Opportunities in Ways of Working. During this session Jennifer will be looking at how current workplace paradoxes present opportunities for new ways of thinking and innovative solutions.
This Evolve Series was exclusively launched by it@cork to showcase innovative tech companies in the South West of Ireland to the membership of it@cork, KerrySciTech and beyond. This hybrid event will feature 3 young tech companies presenting their sales pitch to a panel of representative decision-makers from established and potential buyer companies. This event will have pitches from:
And our buyer panel will have representatives from various Tech companies including Fexco, Aspen Grove Solutions and ENERCON Windfarm Services Ireland, who will listen to the three pitches, give feedback on their sales presentations and answer any questions that might come from the audience. Through these events we aim to bring emerging technologies to the attention of larger companies and showcase the exciting young innovative companies in the region, which can often operate for some time before coming to the fore.
Registration: Please click on the following link: 
Overview of companies and speakers: 
Perkforce: provides a holistic approach to wellness and well-being by showcasing to staff an organisation's benefits, lifestyle perks, and personal development support resources. 80% of staff underestimate their benefits package. This means the wonderful regard that HR has for their people is hidden, and the true Employee Value Proposition (EVP) is being lost. Perkforce is uniquely designed to help staff find out what's available, and show them how they can access the support that matters most to them and their families.
Digital Health Resources: provides a WorkPlace Health & Wellbeing Platform to the SME and larger organisations that supports their employees physical and mental wellbeing, which can lead to improved employee retention rates, increased performance, reduced absenteeism and an overall happier team environment.
RediCare: is a digital therapeutics firm, founded in Ireland in 2014 by an experienced multi-disciplined team with backgrounds in Medicine, Nutritional Scientist, Software Engineering and Operations. RediCare Control has evolved over 6 years from real world deployment and studies in corporate and primary care settings with clinical input from passionate Cardiologists, Endocrinologists, General Practitioners, Nutritional Scientists, Prescribing Pharmacists, Data Scientists, Software Engineers, and world experts in the field of Artificial Intelligence.
Jennifer Dowling: is a Chartered Work and Organisational Psychologist and Director of Train Remote Ltd. where she specialises in the delivery of Virtual Training, Workshop Delivery, Facilitation, Coaching and Team Development. Her background in Project Management, Consultancy, Coaching and Leadership Training has allowed her to work with a wide variety of clients and organisations both Nationally and Internationally across a variety of sectors including; Pharma, Health, Finance, Education and Tech. Jennifer has a strong research and training background in the area of remote, hybrid and flexible work. She is also an experienced trainer and facilitator in both online and classroom delivery.