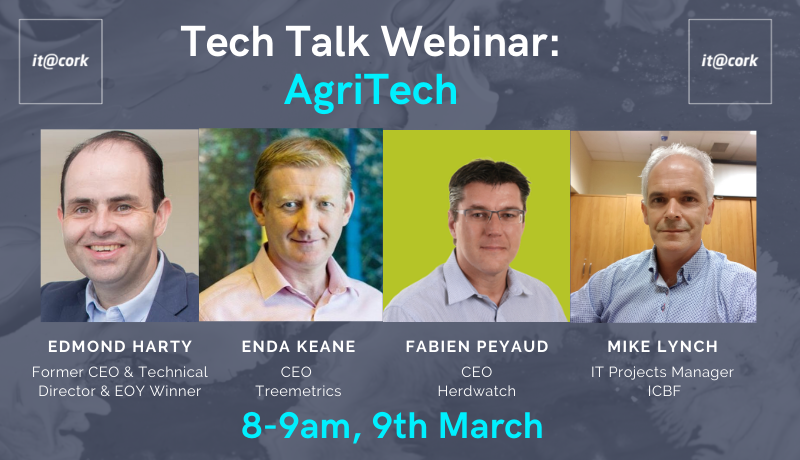 We are delighted to announce that our next Tech Talk webinar will be on: AgriTech. This webinar will focus on the importance and advancements of technology in Agriculture. AgriTech can create many innovative solutions for the various processes in Agriculture as well as helping the industry to become more economically resilient and environmentally sustainable. This webinar will be on the Tuesday 9th of March from 8am-9am.
Panellists will look at the AgriTech revolution and discuss how technology is used in agriculture today. Expert speakers include:
MC
Edmond Harty – Adjunct Full Professor UCD | Former CEO & Technical Director | Former EY Entrepreneur of the Year
During this webinar Fabien Peyaud from Herdwatch will discuss technology solutions which make processes more efficient and provide timely access to information for improved decision making. Herdwatch is a leading-edge technology in Ireland and the UK and used on more than 13,000 farms. Treemetrics aim is to make forest management simpler and their founder Enda Keane will look at digital solutions for forest owners and forest management companies to help manage forest properties and operations. Finally, the ICBF provides cattle breeding information services to the Irish dairy and beef industries and Michael Lynch will showcase how their technology is used by their members. This is sure to be an insightful and engaging webinar and Edmund Harty will MC the event and facilitate any questions and answers.
Prior to the discussion we will have a brief presentation from The Best Overall Group in this Years BT Young Scientist & Technology exhibition, Moate Community School. We'll hear from Abby Mullins, Chloe Murphy and Megan Carroll on Wool – Savoir of Our Sea, which hopefully will prompt and lead to some new technology to assist with this".
Registration- Please click on the following link:
Overview of panellists
Edmond Harty
Edmond is an engineer with a focus on business and innovation and has worked for many years at all levels in business right up to CEO level. Edmond is also an Adjunct Full Professor in University College Dublin. From working at all levels in industry Edmond has a good understanding of engineering in terms of design and manufacturing. For many years Edmond was the CEO of Dairymaster, one of the leading dairy innovation and technology companies in the world. Edmond has won numerous business awards including being named EY Entrepreneur of the Year.
Enda Keane
Enda Keane is the CEO at Treemetrics and has more than 20 years of experience in the forestry sector. Enda Keane sought to truly bring forestry to the 21st century.  Enda also demonstrates a history of working in the information technology industry.
Fabien Peyaud
Born and raised in south-eastern France, Fabien moved to Ireland in 1996. Fabien has 20 years-experience designing and building technology solutions to business challenges, and has spent the last few years researching, developing and managing Herdwatch with a small but dedicated and growing team of people.
Mike Lynch
Mike Lynch is Manager of IT Projects in ICBF in Cork, Ireland which is the organisation that runs the national cattle genetics database. He has over 25 year's experience in AgTech, Telecoms and Oil & Gas Industries. Since 2002 he has been involved in the building and operation of the national database in Ireland and has been responsible for the implementation of various sectoral and national projects that have been driven from the database. He is also responsible for the technical implementation of national animal health programmes under the authority of another national organisation, Animal Health Ireland. He is involved in several EU funded research projects and is lead for the Data Integration Platform of the Vistamilk Research Centre in Ireland.