Charter:
it@cork's Tech Talk breakfast series was one of our first event streams. These events provide Tech professionals and business leaders with regular opportunities to meet and network, before listening to
presentations by indigenous and international technology companies.
We quickly turned these talks virtual in 2020 & 2021 and plan to return to in-person events in 2022. 
it@cork Tech Talk's focus on a wide range of tech related topics including: Open Source, Gaming, Cyber Security, AI, Industry 4.0, IPv6 plus much more. 
To get involved in our Tech Talk events contact: John McSweeney – Contracts Governance at Gas Networks Ireland
it@cork
Diversity Matters
Charter:
In 2014, we launched our Diversity in Tech series to support diversity and
inclusion in the Technology sector. In 2022 we renamed this series to Diversity Matters. 
Diversity Matters events are highly engaging and interactive, involving a
mixture of panel discussions and key note speakers, with an interactive Q&A
session. We believe Diversity & Inclusion can help organizations evolve, innovate, problem-solve, and be more efficient. Diversity & Inclusion can improve morale, strengthen employee loyalty, attract quality talent, foster a sense of community, and boost business public relations.
it@cork Diversity Matters events showcase, discuss and promote the need for, and benefits of, diversity & inclusion in today's world.  Successful organisations need to be people focused in order to thrive. These events provide information and support to organisations looking to be more diverse and for diverse individuals within organisations.

To get involved in our Diversity Matters events contact: Aiveen Hyland – Digital Transformation at PepsiCo 
Charter:
TechBrew started as an informal gathering of software company management and technology leaders, getting together to chat and share experiences over a bite and a beer. The focus of TechBrew is on strategic and management issues faced by business managers, technology leaders and product managers within the Irish software industry.
TechBrew offers attendees the opportunity to discuss and share their views, challenge conventional wisdom, and meet and learn from peers. The first part of TechBrew events follow the evening's given theme, offer a number of people a soapbox for 10 minutes each and provide everyone with the opportunity to contribute and air their views.
To get involved in our TechBrew events contact: Donagh Kiernan – CEO & Founder of Tenego Partnering.
Charter:
The shortage of tech talent globally is not a new problem and there is a concern among companies over the dearth of talent for digital roles. As a leading technology cluster in the South West of Ireland, it@cork is well placed to bring key stakeholders together with industry representatives, to explore top challenges in attracting and retaining talent, and provide actionable insights to addressing them.
This Forum meets regularly and looks at the current talent shortages in the region and gathers perspectives on the causes and correlations.  This group also aims to look at and develop some key actions which they or others can take to make a measurable difference.

To get involved in our Talent Forum Contact: Gerry Murphy – Senior Program Manager at VMware. 
it@cork & Cork Chamber
I.T. for SME's
Charter:
This event stream was formed in 2022 and aims to enable SME member companies to make the best use of current technologies to improve their businesses.  We will do this through showcasing SME IT success stories and providing resources, tools and knowledge needed to optimise their IT investments.  These events aim:

To become a reliable jargon-free source of information around IT – removing the mystery. 

Educate SME owners to understand the potential for readily available, affordable technologies that drive tangible improvements in their businesses. 

Create a forum for open engagement, discussion, and participation. 
The IT for SME group partners with other organisations in the region focused on supporting SMEs. 
To get involved in our IT for SME  events contact: Kevin O'Regan – CEO & Founder of Radius Technologies
Charter:
it@cork launched the Evolve Series in 2021. This series of events showcases innovative tech companies to the membership of it@cork and beyond. They feature young tech companies presenting their sales pitch to a panel of representative decision-makers from established and potential buyer companies.   The buyer panel provides feedback on their sales presentations and answers any questions that might come from the audience. 
Through these events we aim to bring emerging technologies to the attention of larger companies and showcase the exciting young innovative companies in the region, which can often operate for some time before coming to the fore.  
To get involved in our Evolve events contact: Larry O' Donoghue – COO at CorkBIC.
Charter: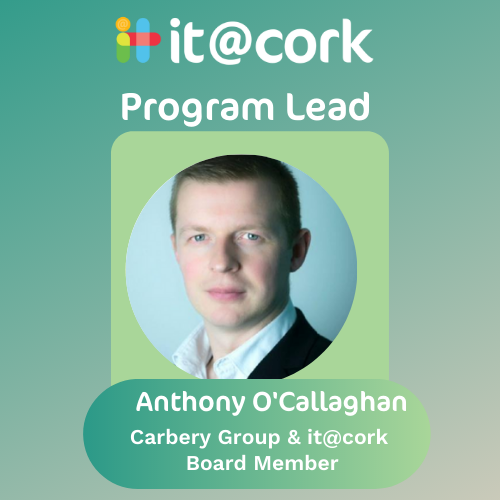 it@cork runs an exciting executive fireside chat series which was launched in 2020 and examples of past speakers include: Sunny Lu, Co-Founder & CEO of VeChain and Bipul Sinha, CEO of Rubrik.
These virtual events see CIO's from global organisations in the technology sector joining in a conversation with it@cork around their careers, their views on technology trends and providing recommendations for those wanting to follow in their footsteps.
To get involved in our Fireside Chats contact: Anthony O'Callaghan – CIO at Carbery Group. 
For more information on any of the above, please don't hesitate to contact us at: admin@itcork.ie